School decision due
Marlboro School Board President Stephen Jennison said, at the board's Feb. 7 meeting there will be a vote to move the Milton Elementary School from an instructional to a non-instructional setting, which may incorporate Town of Marlborough municipal offices in a shared services agreement and the Middle Hope Elementary school to some form of an alternative school. If passed, the changes will take place this coming summer.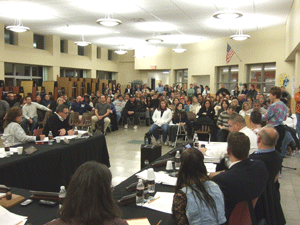 Board approval will result in the termination of two principals, 13 teachers, 10 support staff, three clerical positions and three half custodians. Superintendent Ray Castellani said he is hopeful that once the district stabilizes its finances in the wake of the bankruptcy/auction of the Dynegy power plants, they will be able to reopen these two schools in the future.
At the last school board meeting the public continued to press the board for more information on the district's long- range plans.
Dan Brooks addressed the board, saying he is responsible for posting on Facebook the "true facts on salaries [and] true facts on costs." He said he has yet to hear the board speak on reductions of salaries/benefits "which is the biggest part of the budget."
Dr. Neysa Sensenig, assistant for business, clarified the salary/benefit issue for the present school year. District salaries are $23,390,654 for 351 employees, which include teaching and non-teaching positions. The full-time equivalence of the 351 employees is 321.1, as some employees are part-time.
Health costs this year hit $4,403,500. Retirement costs are $3,208,000, which breaks down to $2,418,000 for the Teacher's Retirement System and $790,000 for the Employee Retirement System.
The total for salaries, health benefits and retirement in 2012-13 is $31,002,154 of a $40 million tax levy for the $52 million overall school budget.
Brooks pressed the superintendent on whether he would give back part of his own salary as an example to others. The superintendent said it would be premature to comment since there are ongoing talks in progress.
"We're in restructuring and negotiation with the union; all units," Castellani said, adding that he takes exception to the implication that he and the board are trying to obfuscate the issue.
"We understand the plight of the community. We understand there have to be changes in the way we deliver services and how efficient those services are and we're working toward that," he said.
Brooks asked the board for a "bottom-line" cost per pupil they are considering as a target goal. Castellani said the board is constantly seeking ways to reduce the more than $20,000 annual cost per pupil while still delivering an efficient and effective educational experience. He reiterated that he cannot disclose information of the ongoing negotiations; the outcome of which will play a role in determining that final per pupil cost.
Jennison said the board is trying to ascertain what the reassessment of the power plants will be and whether the state can expedite additional aid to the district. He said these issues, along with a projected loss of $850,000 in state aid for the next school year, have all contributed to the difficulty of posing to Castellani a target percentage number, above which taxes will not rise in the 2013-14 budget. The board has indicated they are trying to keep the numbers as low as possible.
Castellani said if the Danskammer plant is demolished, as was announced, then that property's assessment could drop to $1 million "if we're lucky" and the Roseton plant, which will continue to operate, could go from their $12 million tax contribution down to $6 million for a combined total of $7 million, leaving a gap of approximately $10 million from both plants' former combined $17.2 million tax contribution. He said the board is working to offset that shortfall and is trying to keep any future tax hike "lower in the beginning and getting up higher – 15, 20 or 25 percent, somewhere in that range," in the coming few years. He said if the board were to make no budget changes, it would mean a 50 percent tax hike, but he called that an unacceptable number. He said the board's immediate plan is to reduce expenditures by $5 million, which may bring the tax hike into the 20 percent range. If the board were to make even deeper cuts totaling $7 million, which would include contract restructuring, Castellani said the tax hike figure could drop into the 8 percent to 15 percent realm.
At the prodding of resident Karen Enamorado, Castellani read an email he received from Dan Brooks that requested a public announcement of the district's cost-saving plan to trim $5 million in its non-teaching management staff, an amount Brooks stated is twice the national average. Castellani read his response letter to Brooks, promising to work with the community group to solve the district's current economic challenges but added that he and the board will not respond to any threats that he perceived is within Brooks' email.
"I contacted Bill Bell, who also represents your community group, and told him that your [Brooks] tone and threats are a sad representation of your community group that has a purpose and is willing to help solve a community issue in conjunction with the Marlboro Central School District," Castellani wrote.
The school board stated they are in full support of Castellani's response.
Robin Amer, media specialist at Marlboro Elementary School, said she came to the board meeting to advocate for library programs. She said Castellani recently spoke to the faculty at the elementary school "saying the future district model for the libraries was to eliminate all clerks and to keep one librarian to oversee teaching assistants [TA] in the other libraries."
Amer said she was "shocked" to hear this and provided the board with a six-page document from the NYS Education Department.
"Pages 1 through 4 show that this model would be in direct violation of state regulations," she said, adding that school enrollment figures require the district to have more than one full-time library media specialist at the secondary level. She also noted that at the elementary level the current scheduled six-day cycle for media classes must be taught by a certified teacher. Amer said she is certified in secondary English and is also certified as a media specialist.
Amer stressed that these scheduled media classes cannot be taught by a TA because they are not actually teachers.
Castellani said the models he discussed are only possibilities, which Amer countered, saying "that was not how that was interpreted" by those who attended the meeting.
"They were shocked and flabbergasted," she said. "What you [Castellani] stated was the model."
The superintendent elaborated, saying these are ongoing discussions on "whether they can fit, whether they cannot fit in ways that we can cut costs in the district."
Amer said the district cannot "flaunt" state regulations that were put in place to ensure that students receive a quality education and were not meant as a means to protect teacher's jobs.
Amer's public statement "I am willing to take a pay cut," as a way to help the community was met by a supportive round of applause from the audience.
"If the union doesn't give, then I don't know if my union really represents me," she concluded.
By MARK REYNOLDS
mreynolds@tcnewspapers.com