Vaguely familiar objects at Garrison
Swiss-born painter Liliane Tomasko is known for her inviting paintings of vaguely familiar objects and spaces. She began her undergraduate education in sculpture at the Chelsea College of Art and Design in London and received an MA in sculpture from the Royal Academy Schools, London.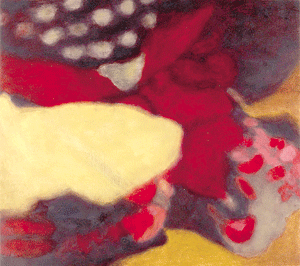 In the late 1990s sculpture gave way to painting, as Tomasko spent more time traveling between her bases of Barcelona, London and New York City. Her work is shown extensively in galleries and museums throughout Europe. In 2010, The New York Studio School, NYC, presented her first solo exhibition in the United States.
An exhibition entitled "The Shifting" will open in the Riverside Galleries at Garrison Art Center on January 26 and run through March 3, 2013. The public is invited to a reception for the artist on Saturday, January 26, from 6 to 8.
The title painting of the exhibition conceals and reveals much, in the way a dream state is both uber real and infuriatingly fleeting. The unlikely composition intrigues while the unfocused edges insist the viewer look closer, and therein find the depth and warmth of an irresistible refuge. Tomasko has deliberately thrown out of focus the obvious, only to reveal it in pieces of evolving comprehension. With these expressive pieces she summons up the feeling of an embrace.
This makes Tomasko's work, although dark and mysterious, strangely comforting. Contemporary painters are often accused of being inaccessible to anyone other than an historian or connoisseur in the field. Tomasko has deftly merged her furtive treatment with a mastery of the medium and then wisely chosen content that is everyman-friendly. She has ingeniously married the dark with the light, metaphorically and also literally. Her expert manipulation of light and shadow shows clear evidence of her interest in sculpture. Her rich and layered palette calls to mind the old masters and their lush handling of paint.
In particular, she conjures up the visual drama of an Artemisia Gentileschi, but with subject matter and technique that is much kinder and gentler. Cristin Leach Hughes, Art Critic for The Sunday Times (Ireland), compares Tomasko's work to Caravaggio and said of her recent exhibition in Dublin, "This feeling for colour and composition lends Tomasko's apparently soft paintings a counterintuitive strength. They glow quietly with an inner potency."
The exhibition runs from January 26 through March 3, 2013. The Riverside Galleries are open Tuesday through Sunday 10 to 5. For more information contact carindaswann@theriversidegalleries.org or call Garrison Art Center 845-424-3960.
– Carinda Swann