Wallkill's nordic season underway
Wallkill's Jenny Rutkowski and Olga Ostrovetsky went 1-2 Thursday, Jan. 10, during the Section IX nordic skiing races at Mohonk Mountain House.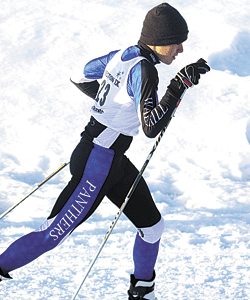 The pair gave Wallkill's girls team the top score with 45 points. New Paltz was second with 42 points, and Kingston was third with 22 points.
Rutkowski, who was 32nd last year at the state meet, wants to make another trip to Lake Placid for the state meet again this year.
"I've been training," she said. "I think it's going to be a good year."
Rutkowski beat Ostrovetsky by more than a minute on the 5K course with a winning time 23:27. Kayla Petutis finished fifth for Wallkill.
The girls had three top five finishers. And Wallkill's boys team had four finishers on the top-10 led by Tyler Barton, who finished third with a time of 21:01.
Wallkill's Ryan Walton was fifth, and Casey Dabroski was seventh. Michael Valleau finished in eighth-place for Wallkill.
Wallkill boys team finished second with 41 points.
By Bond Brungard
sports@ tcnewspapers.com