Art for a New Humanity in New Paltz
The State University of New York at New Paltz announces a lecture by Kamran Khavarani, artist, architect, and humanitarian.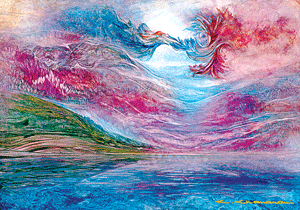 His presentation, titled "Art for a New Consciousness, Art for a New Humanity," will be held on Wednesday, Feb. 20, at 7 p.m., on New Paltz's campus in Lecture Center room 102. It will be preceded at 6 p.m. by a reception and followed by a Q&A session.
All parts of the evening are free and open to the public.

Khavarani has established a national and international reputation as a humanitarian and as the creator of the art movement known as abstract romanticism. He has designed more than 300 architectural projects in Iran and received numerous awards, including the prestigious international design competition for his design of the City Theater of Tehran, a prized landmark building in the capital city. He received his master's degree in architecture in 1965 and a Ph.D. in urban design and city planning in 1970, both from Tehran University. He is the recipient of the Ellis Island Medal of Honor for his humanitarian service to the world, and he was featured on the PBS series "Between the Lines."
"Khavarani is a one-person movement," wrote the late art critic Professor Albert Boime of UCLA. "[He] resurrects the romantic possibility that art can change the world by reaching out unstintingly to the heart and imagination of the individual spectator." He also stated, "It remains to be seen how the fallout from Khavarani's paintings will influence the history of art."
Khavarani will be introduced by film scholar and art critic Bahman Maghsoudlou. Maghsoudlou is the recipient of Iran's prestigious Forough Farrokhzad literary award for writing and editing a series of books about cinema and theater.
In addition to writing, directing, and producing films, Maghsoudlou also participates in international cinema as a panelist, juror, and lecturer. He organized the first Iranian Film Festival in New York in 1980 and originated the International Short Film Festival: Independent Films in Iran, which was held in New York in 2007.

This event is co-sponsored by New Paltz's College of Liberal Arts and Sciences, School of Fine and Performing Arts, and Samuel Dorsky Museum of Art.
Guest parking will be available in parking lot #28 on Route 32, across from the Haggerty Administration building.