Dukes win; Huskies show signs of improvement
Marlboro's boys basketball team ended a four-game losing streak Tuesday, Feb. 5 at home when the Dukes beat Highland for the second time this season.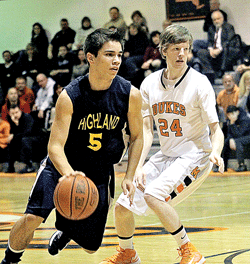 And it was a victory that ended the futility – from which lessons were learned – and it showed the Dukes how much Highland has improved since their first meeting.
Marlboro won the second meeting 63-50 after blowing out the Huskies during their first game earlier this season.
Marlboro led 13-9 after the first quarter before Highland's Ross Miller hit a jump shot in the second quarter and closed the gap to 15-13. The Dukes then went on a 16-7 run to lead 31-20 at the half.
But as Highland tried to stay in the game, the Dukes' Matt Tamburri hit a three-pointer in the third quarter to keep it a 10-point game, up 42-32, and that's the way it stayed to the end.
"Highland is way better than they were two months ago. They played well," said Mike Koehler, Marlboro's coach.
Tyler Banks led Marlboro with 15 points, seven of those in the fourth quarter. Zach Sakadelis scored 11 points, on three threes with a pair in the second quarter. And Alex Smith rounded out the Dukes' threesome in double figures when he scored 10 points
" Zach was big for us in the first half, and Tyler was big for us in the second half," said Koehler. "We came back and made big plays in the stretch."
Highland dropped to 7-7 but either has to beat Rondout, after beating the Ganders by 15 points during their first meeting, or win two of their next four games to qualify for their first postseason appearance since 2008.
Mike Milliman, Highland's coach, smiling despite the loss, did not want to speculate about the postseason yet.
"We haven't been there in awhile, so I won't talk about it," said Milliman.
Highland, too, had three players in double figures, and they were led by Cory Garcia's 13 points. Travis Marnell scored 11 points for Highland, and Ryan Merget scored 10 points. The team's turnaround from last season's single victory is becoming very real, and Milliman said it showed during their losses to Marlboro, Saugerties and FDR.
"We're sort of right there, but we have to make that defensive stop," said Milliman. "We can play with anybody."
So can Marlboro. All the losses during their four-game losing streak to Lourdes, FDR, Saugerties and New Paltz were close, and the loss to Saugerties came in the last second. Koehler said the losses showed the Dukes what they need to do to repeat as sectional champs.
"We're just not getting over the hump against good teams. Those three teams are good," he said."In the long run, it will be good for us."
By Bond Brungard
sports@tcnewspapers.com