Lady Goldbacks win six straight
Newburgh's girls basketball team entered the middle of January 3-7, mired in a four-game losing streak after losing to M-W by 16 points Jan. 11.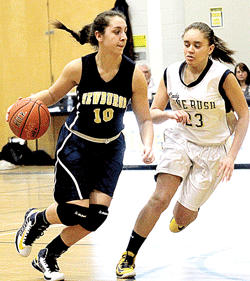 But since then the Lady Goldbacks have gone on a six- game winning streak after beating Pine Bush for a third time this year, while having to wait for the playoffs to start Feb. 23 after playing M-W on the road Feb. 20 during the season finale.
"It's not good for continuity," said Rich Desiderio, Newburgh's coach, of the drawn-out schedule after beating Pine Bush on the road 56-45, Wednesday, Feb. 6.
After leading 13-11 at the end of the first quarter, the Lady Goldbacks went on a 23-7 run in the second quarter that made the difference in the game for Newburgh.
The Cook sisters, senior Emily and sophomore Kate, led the team. Emily Cook scored 13 points to lead Newburgh, while downing a trio of threes. Katie Cook scored 12 points with a pair of threes and going 2/2 from the foul line, points all scored in the first half. The Lady Goldbacks were 10/13 from the foul line, but were outscored 27-20 in the second half.
"I told them you have to play for 32 minutes, you can't have these lapses. I'm just happy to get out of here with a win," said Desiderio.
Crysti Eichner led Pine Bush with 18 points, scoring 11 in the second half with a pair of three-point shots.
"We won the second half, but we have to put it down. We missed a lot of easy shots," said Bill Lacovara, Pine Bush's coach.
Lacovara was referring to his team's first half performance and the inconsistent shooting that has left the sectional finalist from a year ago with a single victory this season.
"We need those easy shots," he said.
Despite another frustrating loss, Lacovara said his team did not give up by trying to get back in the second half.
"I thought we played them tough," he said.
Pine Bush's Kate Cain, an eighth-grader at nearly six-foot, three inches, made her first start of the season and scored 10 points. She also menaced the Lady Goldbacks on defense, blocking many shots and unsettling their offense.
By Bond Brungard
sports@tcnewspapers.com