Lady Panthers claim MHAL title
Wallkill's girls basketball team won its second MHAL title in three years when they beat Onteora 55-33 Thursday, Feb. 21 in Stone Ridge.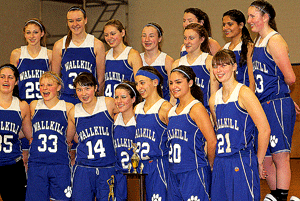 The Panthers used a stinging, physical defense to keep Onteora at bay while they built a 28-16 half time lead.
"Defense is the key to our offense. We like to push the ball," said B.J.Masopust, Wallkill's coach.
Wallkill started out strong with some good inside work from Lisa Bouffard, who scored 14 points. Heather Kizcek also scored 14 points for Wallkill, while going 6/8 from the foul line in the final.
But to get to the final, Wallkill had to overcome Marlboro in the semis Tuesday, Feb. 19. Wallkill, 15-1 entering that game, incurred their only loss to the Dukes when Marlboro's defense kept Lisa Bouffard to nine points during their regular season meeting.
But in the semifinal, Wallkill returned as the MHAL juggernaut it had been all season, and Bouffard, with 13 points, was one of four Panthers in double figures when they decisively downed the Dukes 60-42.
"They got hot. We didn't make any foul shots, and we couldn't get any offensive rhythm," said Keith McAteer, Marlboro's coach.
Rachel Simon, who led Wallkill in the semis with 14 points, downed a three with a minute left in the third, and the Panthers led Marlboro 41-24.
"That was a big mental block that we were able to overcome. There was a tremendous amount of confidence coming into tonight, and I think it showed," said Masopust, after winning the championship.
Simon, who scored six points against Onteora, agreed that beating Marlboro in the semis helped their play in the final.
"That was the big hump. We knew Onteora would be a challenge too, and we didn't take them lightly," she said.
Wallkill improved to 17-1 and enters the sectional postseason as the number-one Class a seed. They get a bye through the quarters and will face either Saugerties or Red Hook in the semis at home Friday, March 1 at 6 p.m.
By Bond Brungard
sports@tcnewspapers.com