Vikings rally but lose to Washingtonville
Valley Central's Calvin Crawford downed a pair of threes to keep Valley Central close in the fourth quarter at home, Thursday, Feb. 7, against Washingtonville, but the Wizards took those closer shots – from the foul line – late and stayed ahead to win 66-62.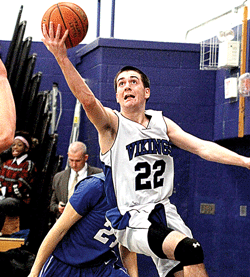 The Wizards led 56-41 after the third quarter, but the Vikings made it a game in the fourth before Joey Picone, who led the Wizards with 22 points, and Kiernan Hayes, who added 21 points, each downed a pair of foul shots in the game's final 30 seconds to keep the Vikings too far away at the end.
"We kind of dug ourselves into a hole, but we fought back and had our opportunities at the end. We gave ourselves a chance, which is all you can ask for from the kids, " said Eric Bartle, Valley Central coach. "They made the foul shots they needed to. That's the chance you take to stop the clock."
Picone downed four threes early, and Valley Central's Isaiah Boissard added a pair from the perimeter as the game started close with the Vikings trailing 19-17 after the first quarter.
By halftime, the Wizards built a 10-point lead, which continued to grow through the second half before the Vikings tried to come back late.
Valley Central dropped to 7-7, but has tied up a playoff spot with a 3-2 league record. Bartle said the team needs to work on its consistency to prepare for the postseason.
Andre Williams led Valley Central with 16 points, and Boissard helped with 15 points. Crawford scored 14 points for the Vikings, helping with a second quarter dunk.
By Bond Brungard
sports@tcnewspapers.com