Familiar faces give Bushmen hope
Pine Bush's baseball's season ended last year with a loss in the Section 9, Class AA final to Kingston. Kingston went on to win the state title while many of the Bushmen went out and played American Legion senior ball for the Middletown Cobras through the summer.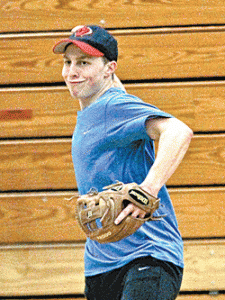 Tom Walraven coached both teams, and now he's back with much of same group he coached in the spring and summer of 2012.
"They are committed guys," said Walraven, as the team practiced indoors with no sign of spring or green grass in the near future.
John Cain, a six-foot, nine-inch junior left-hander, is back with the Bushmen after starting the sectional final last year and playing legion ball for Walraven. Also on the mound will be Evan Lieberman and Dom Cacciapoli, junior righties, Mike Fontenez and Casey Piazza, junior lefties, and Sam Fontenez, a senior righty.
First will be manned by Piazza and Scott Flanick. At second will be Tommy Mira, a junior, and Skylar Martine, a senior. Senior Tommy Walraven will play shortstop, and Sam Fontenez will play third when he's not pitching.
Senior Brian Guzman, who played with Walraven and Cain last summer, will bring speed to the outfield with juniors Dan McNamara and John Nelson. Andrew Overton, a senior, will also play in the outfield.
Carl Long, who caught for the Bushmen last season and graduated, opened the door for a three-way competition behind the plate between seniors Tyler Wood and Christian Maldonado and John Lindau, a junior.
"This is probably the best competition (for a spot)," said Walraven.
The Bushmen are slated to open the season Monday April 1st at home against Cornwall, the state Class A champion in 2012. But starting April 22 when they host NFA, the Bushmen will work through the remainder of the season with three-game series against divisional rivals, Middletown, Kingston, Monroe-Woodbury and Newburgh.
By Bond Brungard
sports@tcnewspapers.com