Fire destroys Walden home
Two Walden women escaped without injury last Thursday when a fire erupted in their home at 11 Williams Street.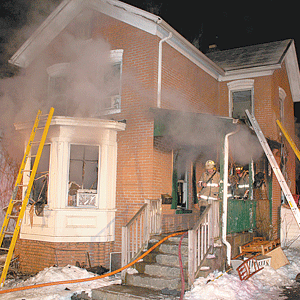 Walden Fire Chief Jody Doherty stated that firefighters responded to the scene at about 3:11 a.m. to find a fire engulfing the basement and extending to the first floor with heavy smoke.
A second alarm was sounded and mutual aid from Coldenham, Montgomery and Wallkill Fire Departments responded, with Maybrook standing by in quarters. Firefighters were able to get the fire under control in about half an hour and the fire was out by 6 a.m.
While the two women in the home were not injured, their pets did not fare as well, with two cats perishing in the blaze. Doherty said firefighters were able to save one remaining cat and several birds.
Doherty stated that the home was likely not salvageable, with the first floor and basement destroyed and heavy smoke damage to the second floor.
As of Tuesday, investigators were unable to find the cause of the fire that began in the basement, and have ruled the cause "undetermined."
By RACHEL COLEMAN
rcoleman@tcnewspapers.com