Lady Goldbacks put last year behind them
After missing the playoffs and having a miserable season against other sectional Class AA teams last year, Newburgh's softball team will try and rebound this spring and get on a winning track.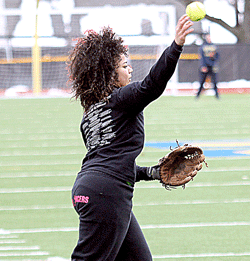 "Gabi Bruno is a senior pitcher who is expected to pitch and lead the outfield along with seniors Taylor Brummell and Brianna LaBarbera," said Beth Fletcher, Newburgh's coach.
Brummell, coming off a basketball season which at times saw her hobbled by injuries, has a very strong arm that she used to play shortstop before moving behind the plate last year.
"Brummell also will most likely see time behind the plate as well as the outfield," said Fletcher.
Playing the infield will be Kristen Steele, Rachel Berwick and Ashley Bates, all seniors.
Newburgh's losses from a year ago were a pitcher and outfielders. Now the Lady Goldbacks come back this spring and will try to have a better showing than they did a year ago against their Class AA divisional rivals Pine Bush, Kingston, Monroe-Woodbury and Middletown.
Valley Central, the sectional Class AA champ last year and a team that reached the state final four, battered the Lady Goldbacks 14-0 in early April of 2012 and the season followed with few bright spots.
Valley Central beat Newburgh again later in the season as the Lady Goldbacks also lost twice to Kingston, Pine Bush and Middletown. A few days after the battering by Valley Central, Newburgh played hard and came up short to Middletown 11-10. Two weeks after that loss, the Lady Goldbacks were close again without success, losing 1-0 to Warwick. Warwick shut out the Lady Goldbacks later in the season.
By Bond Brungard
sports@tcnewspapers.com