Connoly tosses 2nd no-hitter
The numbers have really been in the favor of Valley Central's Cindy Connoly this season. Connoly threw her second no-hitter of the season when she beat Warwick 11-1 Wednesday, April 17. She struck out 10 against Warwick after tossing her first no-no against Middletown in the season opener.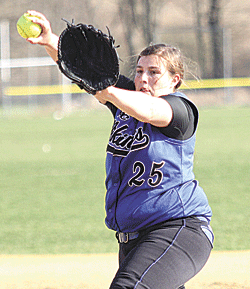 In the second game of the season, Connoly did not walk a Monroe-Woodbury batter Monday, April 15, on the Vikings' breezy field behind the high school. And she only gave up one hit in the second inning as Valley Central won 3-0 behind Taylor Canto's home run and two-run single.
Connoly struck out 12, gathering at least one strike out every inning. She fanned the side in the second – but also gave up a single in that inning to Mandy Abel for the Crusaders' only hit.
"I'm just pitching to the best of my ability," said Connoly. "I go out there trying my best, and that's just what's happening.
Canto, a junior outfielder playing her first full varsity season, hit a two-run single in the first inning and followed up with fourth-inning home run that took off through the fence-less left-center outfield.
"I felt it when I hit it," said Canto.
But without a fence, there's no line or marker signaling the hit's final destination. So Canto had to beat it for home before the ball arrived.
And she did-safely.
"You have to keep running. You can't look at it," she said. "I saw my whole team, so it was just a good feeling."
By Bond Brungard
sports@tcnewspapers.com