Huskies withstand Millbrook rally to win 16-8
Highland's boys lacrosse team jumped out to a 5-0 lead after the first quarter at home against Millbrook, Thursday, April 18, before the Blazers made it a game in the second quarter with a 6-2 run.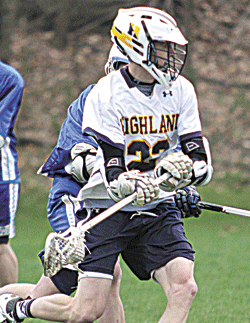 Highland still led at the half, 7-6, – before taking control of the second half and winning 16-8.
"I told them to relax and stay focused," said Tom Schlappich, Highland's coach, regarding his halftime talk with the Huskies. "We just weren't playing smart. We were forcing the ball when it wasn't there."
Highland improved to 3-1 and is now playing with the same offensive versatility that older, more successful programs have used against the Huskies in previous seasons.
Quinn Halligan scored four goals for the Huskies, and Steven Beck and Adam Cardella each scored three goals. Chris Schlappich scored two goals, and Joe Schupp and Kyle Merget each added a goal.
"We have one of those offenses where everyone picks up everybody else," said Schlappich. "We're getting six and seven guys in the box every week."
By Bond Brungard
sports@tcnewspapers.com