Lady Goldbacks overcome 11-run deficit
Newburgh's Taylor Solomon flew out to end the bottom of the fourth inning when the Lady Goldbacks hosted Pine Bush, Wednesday, April 17.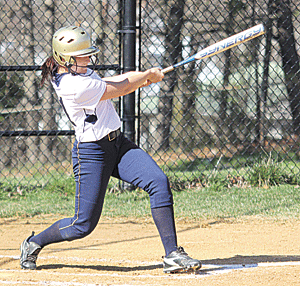 The Lady Goldbacks trailed 11-2 and it did not look good for the team. But after putting Pine Bush down in order in the top of the fifth, the Lady Goldbacks would start a comeback that ended when Gabbi Bruno came to bat with bases loaded in the bottom of the seventh inning. Bruno tripled, emptied the bases, and the Lady Goldbacks won 12-11.
"The victory was huge," said Beth Fletcher, Newburgh's coach after her team improved to 4-2 "Pine Bush is a league game for Newburgh. It is and important win for Newburgh in order to advance to sections. I was glad the team did not give up and fought to the end."
Pine Bush, coming into the game 2-0, scored two runs in the first with RBI-singles from Alyssa Hasbrouck and Kelly Klewicki. Crysti Eichner and Sydney Hofmann both hit two-run doubles in the second inning when Pine Bush scored eight more runs to lead 10-0. Pine Bush's Michaela Veneziali then added an RBI-single in the third for an 11-0 lead.
But the Lady Goldbacks' bats came alive in the bottom of the third when Solomon belted a two-run double and the lead was cut by nine runs. But starting in the fifth, the momentum was moving in Newburgh's direction before Bruno tripled to empty the bases and win the game for Newburgh.
"The team learned that it is important to stay focused from the beginning of the game and to keep that focus and intensity throughout the entire game," said Fletcher, "because you never know what can happen."
Kristen Steele had four hits, and Solomon and Courtney Jones each had three hits for the Lady Goldbacks.
It was Pine Bush's first loss after starting the season without Christie Nicolo, who helped power the team for many years, Anna Mallory, their starting pitcher from a year ago, and Mary Salle, their center fielder in 2012.
Still, Mike Mancuso, who coaches Pine Bush, is confident his team will do well this season with veterans like Eichner, a senior and new players like Veneziali, a freshman, and Felicia Torres, a junior and their lead-off hitter.
"We have a lot of first-year players," he said. "They are buying into it and working hard."
By Bond Brungard
sports@tcnewspapers.com