Mastery of the jazz flute
Internationally renowned jazz flutist Ali Ryerson, consistently voted among the top jazz flutists in the Downbeat Jazz Poll for nearly a decade, is on tour with her quintet promoting the release of her most recent CD as leader, "Con Brio!"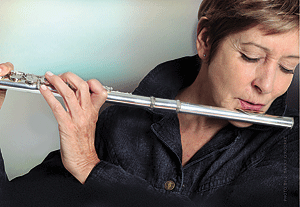 Her current tour will bring her to The Falcon in Marlboro on Thursday, April 25, at 7 p.m.
Ryerson, consistently voted among the top jazz flutists in the Downbeat Jazz Poll, was recently honored as Jazz Flutist of the Year nominee (Jazz Journalists Association). Ali performs, records and teaches internationally, having toured the US, Canada, Europe, Japan, New Zealand and North Africa, with performances ranging from Carnegie Hall to the Kennedy Center; the Monterey Jazz Festival to the Guinness Jazz Festival in Ireland; Ronnie Scott's in London to the Blue Note in both NYC and Japan.
With a career spanning four decades, Ryerson has released nearly 20 jazz albums on major jazz labels such as Concord Records and legendary jazz producer Bob Thiele's label Red Baron. She has worked with jazz icons such as Kenny Barron, Frank Wess, Joe Beck, Roy Haynes, Stephane Grappelli, Art Farmer, Red Rodney, etc., as well as classical artists Julius Baker and Luciano Pavarotti (as principal flutist with the Monterey Bay Orchestra). Musical director of the Hudson River Regional Jazz Festival (2001-'04), Jazz chair of the National Flute Association (2005-'10), and founder of the NFA Jazz Flute Big Band, Ryerson is the author of the highly acclaimed book, the Jazz Flute Practice Method.
Ryerson conducts master classes worldwide (California, New Mexico, Canada, Italy, Holland, New Zealand, Eastman School of Music, etc.), has been on the faculty of the Litchfield Jazz Camp, the IJAM JAZZ summer camp in Italy, and is a visiting faculty member at The Jazzschool in Berkeley, California. Ryerson studied flute with Harold Bennett and John Wion and is a graduate of the Hartt School of Music.
Her latest CD "Con Brio!" (ACR Music) features some of today's most contemporary jazz artists Mike Mainieri, Pete Levin, Mike DeMicco, Mark Egan and Danny Gottlieb. August will mark the CD release of Ryerson's "Jazz Flute Big Band" on Capri Records, featuring Ali's 19-piece ensemble, with a guest appearance by legendary jazz flutist Hubert Laws.
The Ali Ryerson Quintet features players well-known for their contributions to the contemporary jazz scene: keyboardist and arranger Pete Levin, a top NY session player and Moog synthesizer pioneer, best known for his 15 year association with the legendary Gil Evans and his eight-year stint with jazz icon Jimmy Giuffre; guitarist/composer Mike DeMicco, long-time guitarist with the Brubeck Brothers; the original bassist from the Pat Metheny Group, Mark Egan, with his unique fretless electric bass sound, and the exciting addition of drummer Karl Latham, a veteran of the European Jazz scene since 1993, now a sought after drummer in the NY area. The music is adventurous and contemporary, with a focus on original material.
The Falcon is located at 1348 Route 9W in Marlboro. There is no cover charge, although donations are accepted, and dinner reservations are available. Call the Falcon at 236-7970 for reservations and more information.