Bipartisan support for Bullville
The Army Reserve Center in Bullville will be upgrading its existing training facility on Route 17K after the project's funding was passed by the House of Representatives last week with bipartisan support.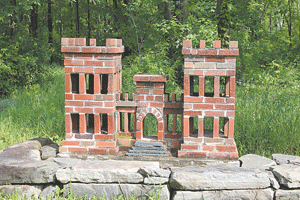 Specifically, this legislation, the fiscal year 2014 Military Construction and Veterans Affairs Appropriations bill, includes the construction of the new training center in Bullville, funds for the construction and renovations of new cadet barracks at West Point and steps to address the backlog of veterans' disability claims.
Located on Route 17K in Bullville, the Staff Sgt. Frederick J. Ill U.S. Army Reserve Center—named after an Army Reservist and New York City firefighter killed in the World Trade Center on 9/11—is a 153-acre training facility consisting of former farmland taken over by the U.S. Army in 1967. According to neighbors, the land was seized through eminent domain after a court battle.
The Bullville site is a training facility to maintain and update the skills of reservists from New York, Connecticut and New Jersey, and currently accommodates about 160 reservists during weekends and for a couple weeks in the summer. It also maintains a full-time staff of active duty reservists.
The upgrade to the facility calls for the demolition of some existing structures and the construction of new buildings that will accommodate 16 staff members during the week and approximately 250 additional reservists spread over three weekends per month. A large motor pool for military vehicles has also been discussed.
Reservists at the new center would participate in classroom training, military exercises including land navigation and earth-moving exercises, and limited vehicle maintenance. There will be no live weapons discharged at the site.
The Bullville site is currently focused on engineering, specifically building roads. The training they provide to reservists consists of clearing, prepping sites, filling, grading and other aspects.
In a press release last week, Representative Sean Patrick Maloney noted that the new center was being constructed to "replace old facilities that were not able to support training for an Engineering Company" and that it would "enable other units to train at this site."
"I am proud of this bipartisan effort to invest in our infrastructure and continue our commitment to America's veterans, troops and military families," said Maloney. "These folks have given years of service and sacrifice and this bill shows them the deep respect they deserve."
Completion of the planning phase for the upgrade is anticipated this summer, with construction beginning next year.
In addition to funding the construction of the new training center in Bullville, the legislation also includes $42 million for the construction and renovation of the overcrowded and outdated barracks at the West Point Military Academy. Work is expected to begin at West Point this September.
By RACHEL COLEMAN
rcoleman@tcnewspapers.com