Bridge work, traffic come to a stop
A union painter working on a lead abatement and repainting project on the Newburgh-Beacon Bridge Thursday morning had to be rescued after he was injured in the containment system used to keep paint chips from falling into the Hudson River.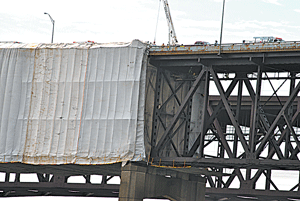 It was the second incident of this type in the past several weeks.
The New York State Bridge Authority has temporarily suspended work on the project until the contractor, Kiska Construction of Long Island City, can assure the safety of its workers, spokesman John Bellucci said.
The injured worker was identified as Renato Amaral, 46, of Newark, N.J. He reportedly fell and was caught by his safety harness as he was sandblasting a portion of the bridge. He was lowered, with the assistance of co-workers, to another deck, according to the Town of Newburgh Police Department.
Town of Newburgh Police Officer Steven Bouffard and City of Newburgh Fire Department personnel were transported to the victim by crane. Once the worker was secured he was lifted to the surface in the same manner.
The nature of Amaral's injuries were not disclosed. They did not appear to be life-threatening, but were serious enough to require the worker be airlifted to Westchester Medical Center in Valhalla. That resulted in closure of westbound bridge traffic for 30 minutes while a helicopter landed and the injured worker removed.
Two weeks ago, two workers were left dangling from their safety harnesses after supports beneath them gave way. Those workers were able to scramble to safety without injury
The Federal Occupational Safety and Health Administration is reportedly investigating that incident.
Also assisting at the scene Thursday were New York State Police, the Goodwill Fire Department, Middlehope Fire Department, West Point Fire and Rescue and Stewart Air National Guard Fire Department.
By ALLAN GAUL
agaul@tcnewspapers.com