Pine Bush softball team wins Section 9 title
Alyssa Hasbrouck hit a three-run shot that gave Pine Bush's softball team a Section 9, Class AA semifinal win over Valley Central less than a week earlier.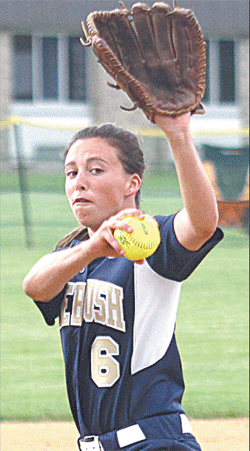 Pine Bush pounded Middletown 9-1 a few days later for its first sectional title. But when Pine Bush faced Union-Endicott back in Minisink during the a state regional playoff game Monday, June 3, they ran into Rachel Mouillesseaux, who stopped Pine Bush 2-0 in a one-hitter.
"You tip your hat off to that team. That girl came out, threw strikes and moved the ball around a little bit," said Mike Mancuso, Pine Bush's coach.
Hasbrouck managed that hit, a fifth-inning single.
"We didn't sit back," said Mancuso. "We attacked the ball, and we did everything we were supposed to do. It just wasn't our day."
Union-Endicott's two runs came when Karleigh Eaton singled home a run in the fourth inning, and Anne Kelly scored on a double steal in the sixth inning. Except for a few mistakes, Michaela Veneziali, a freshman and Pine Bush's starter, kept her team in it, fanning four and giving up four hits.
The game was also the last for seniors Hasbrouck, Kelly Klewicki and Crysti Eichner, seniors, who were joined in the starting lineup during the sectional title run by freshmen Veneziali, Katherine Parise and Sydney Hofmann, and Kelsey Gage and Felicia Torres, juniors.
"This is a great bunch of kids," said Mancuso. "It's probably the closest family we've ever had."
By Bond Brungard
sports@tcnewspapers.com