Contemporary Tibetan Art in New Paltz
The Dorsky Museum at SUNY New Paltz presents Anonymous: Contemporary Tibetan Art. Hours are Wednesday – Sunday, 11 a.m. – 5 p.m.; except between August 5 and 23, when the museum is only open Saturday and Sunday, 11 a.m. – 5 p.m. Opening reception is Saturday, July 20, 5-7 p.m.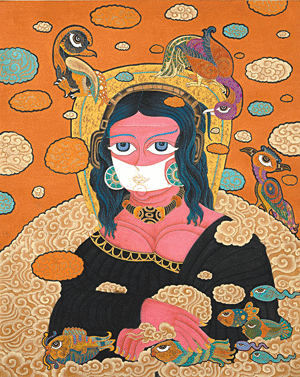 Anonymous seeks to explore the tension between an ancient culture's unbroken artistic tradition and the personality-driven world of contemporary art. Anonymity and self-expression are commonly polarized values and artistic goals within the global art market. In traditional Tibetan art, artistic craft was used to support the transmission of Buddhist culture. In the present atmosphere however, art is becoming a vital medium of self-expression for Tibetans and artists are increasingly creating work focused on the individual. A cautious 21st century visual language steeped in irony, metaphor, and allusion has fully emerged.
Largely drawn from The Shelley and Donald Rubin Private Collection, the exhibition will feature over 50 works of painting, sculpture, installation, and video art by 27 artists living in Tibet and around the world, including Dharamsala, Katmandu, New York City, Oakland, Thimphu, Zurich, and the Australian Outback. Many works were made exclusively for the exhibition and will be on view to the public for the first time.
For more information and directions to the museum please visit: newpaltz.edu/museum.