Pine Bush boys win junior title
Pine Bush started the District 19 junior Little League baseball tournament in Cornwall Saturday July 6 with a 15-4 victory over Wallkill Area to advance to the championship round.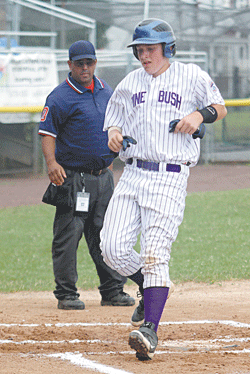 A week later, during their third meeting in four days, Pine Bush beat the Town of Wallkill 14-3 Saturday to win the District 19 title and advance to the Section 4 tournament in Harrison Thursday.
Richard Blazeski, who drove in two runs in the title victory, fanned seven and shut out the Town of Wallkill through six innings during that game.
Devin Moore, who started Wednesday, July 10 against the Town of Wallkill at Delano-Hitch Stadium in the City of Newburgh, drove in four runs in the title game.
Pine Bush won that game in Newburgh 12-8 and advanced for a chance to win the title at home Friday. The Town of Wallkill won that game 4-2, and both teams returned the next morning for the title game.
Prior to facing the Town of Wallkill July 10, Leo Smith, Pine Bush's manager, said there was a sense this team could do well this year.
"To me, pitching is the key," he said. "We thought we'd go pretty far."
By Bond Brungard
sports@tcnewspapers.com