Rebuilding Newburgh
Part I of a series
The City of Newburgh is undergoing change. From citywide cleanups to housing and arts initiatives, the effort toward revitalization has touched almost every sector of the city. In this series, the Mid Hudson Times takes a close look at various revitalization initiatives and the city-related issues affecting them.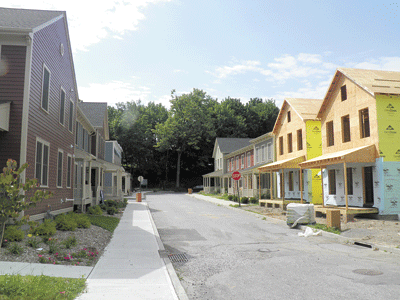 The views of the Hudson River and the Hudson Highlands mountains are beautiful. Restaurants offer everything from fast food to the latest in nouvelle cuisine. Rents are relatively cheap, art and historic sites abound, housing prices are moderate to low and public schools offer some of the best arts and sports programs in the region.
So, while neighboring riverfront cities like Beacon are lauded as cultural gems for their beauty and affordability in magazines and the travel section of the New York Times, why is the City of Newburgh so often overlooked as a destination to live, work and play in the Hudson Valley?
"Parts of it are ghetto," said Beaconite José Quiñones, explaining why he wouldn't live or work in the City of Newburgh. "I don't get a safe feeling when I'm there."
The city's dangerous reputation may have more to do with perception than reality, says Newburgh Major Judy Kennedy. "It's perfectly safe to walk down Broadway now, but many people don't know that," she said. "I walk up and down the street without any thought for my safety."
Newburgh's image problem is two-fold, said Kennedy. "We have a leftover legacy of violence from 20 years ago," she said. "And, people aren't aware of the progress that has taken place."
The ramp-up toward revitalization
In the last few years, a veritable army of charities, nonprofits, religious groups and government entities have been working diligently on revitalization. Their efforts span a range of sectors including housing, real estate, business and tourism, as well as arts and recreation.
This summer, the city and the Greater Newburgh Partnership announced the launch of the "Newburgh Strong" initiative to address quality-of-life issues through code enforcement, community-oriented policing and neighborhood-cleanups. "A River of Opportunities" – the joint effort between the city, the Solar Energy Consortium (TSEC) and the Orange County Partnership – was formed last month to lure businesses through tax breaks and an accelerated permits process.
Later this month, the city council is expected to decide on a home for a Youth Empowerment Center where city children and teens can get educational support and learn life skills in a safe environment, off the streets.
These projects represent a handful of current city-improvement initiatives.
But it was in early 2012 that Mayor Kennedy put the goodwill of the community to the test by mobilizing a group of volunteer professionals to form more than a dozen "community action teams."
The groups brainstormed ways to improve the city with focuses ranging from transportation and tourism to public safety. The initiative bore mixed results. Some of the teams disintegrated, some merged with nonprofits and government councils, and some –the Newburgh Heritage and Art Festival team, for example, which planned the first-ever Newburgh Illuminated Festival, held in June – went on to meet their goals.
One essential lesson learned from the project, the mayor said, was that crime is a, if not the major factor in creating positive change for the city.
The label that stuck
In 2011, writer Patrick Radden Keefe wrote a piece for New York Magazine entitled, "Welcome to Newburgh, Murder Capital of New York." In it, he provided a harrowing overview of gang-related crime in the city, which the story labeled as having the highest per-capita murder rate in the state.
"It was an unfair label," said Newburgh Police Chief Michael Ferrara, even then.
Perhaps the most egregious killings that year occurred when an emotionally distraught Lashandra Armstrong, 25, drowned herself and three of her young children by driving her car off a boat ramp and into the frigid waters of the Hudson River. The story made headlines around the world.
But, it was the Michael Lembhard shooting in 2012 – in which Lembhard, 22, was shot 15 times by police – that reignited racial tensions between residents and police. The shooting triggered the city to hire consultants to look into ways to improve police relations with the public.
The Matrix Consulting Group presented more than 50 recommendations to the city council in early August. "Our plan is basically to take the recommendations and go from the easiest to implement to the hardest," said Ferrara.
Easy are the recommendations to provide public parking for visitors and labeling calls according to priority when they come in through dispatch, he said; harder to implement is a ban on cops working 16-hour shifts.
"We have layovers and we have emergencies when we need extra people on the shift," said the chief.
All contractual changes, including those relating to work hours, need to be negotiated with the unions, he said. "We have three different unions," said Ferrara. "All three have different contracts."
At this point, the chief spoke bluntly. "We're understaffed," he said. "We're down by about 20 people, mostly in patrol. We handle anywhere from 30,000 to 40,000 calls per year. We have enough officers to run from call to call, but it's hard to get involved. Right now, we need to handle the call, clear and move on to the next call. It's not really appropriate. If you don't handle it properly, (the call) can come back as worse-case scenario."
The consultants agreed, Ferrara said, recommending the patrol force be expanded from 34 to 46 full-time officers. "That's so we can be less reactive and more proactive," he said.
Of course, it will take funding to make it happen.
"It's strictly budgetary," the chief said. "It's up to the city council to provide as many new positions as they can to bring the police department up to strength, at least to the Matrix recommendation level."
Murder capital, no longer
When the state's Division of Criminal Justice Services issued its annual Operation Impact report for 2012, Newburgh fared similarly to neighboring cities.
The study states that in 2012, the City of Newburgh had five murders and a population of 28,651. The City of Poughkeepsie, with a population of 30,847, reported three. In 2011, there were four murders in Newburgh and five in Poughkeepsie.
Various online magazine publications point to the Federal Bureau of Investigation's 2012 Preliminary Annual Uniform Crime Report as the data source for compiling recent lists of "Top 100" and "Top 10" most dangerous cities in the U.S.
But, they crunch their own numbers, according to the FBI. "The FBI does not rank cities/municipalities/agencies based on Uniform Crime Reporting program statistics and we strongly discourage others from doing so… but they still do it," FBI spokesman Stephen G. Fischer Jr. wrote in an email to the Mid Hudson Times this week.
Still, there have already been five murders in the city in 2013, including a triple homicide on South William Street in May. Ferrara readily admits Newburgh has a high rate of crime. "We've had it for decades," he said.
But, he notes, there have been more than 120 arrests of city gang members – mostly belonging to the Bloods and the Latin Kings – in the past five years. Ferrara estimated that approximately 30 percent of murders during this period were gang-related. "We know that with any gang culture, if it's not kept in check, it can grow back," he said.
According to the police chief, city crime rates have dropped in certain categories: In the first six months of this year compared to the same period last year, robberies have dropped by 16 percent, aggravated assault is down by 14 percent, larceny decreased by 21 percent and residential burglaries are down by 10 percent. Incidentally, rapes are up by 38 percent.
Without taking this year's remaining months into account, the city's murder rate has remained about half of what it was in 2010, the year when 11 murders earned Newburgh the label of the most dangerous city in the state.
Ferrara agrees that Newburgh can turn its image around only once crime goes down and stays down. "Reducing crime has got to be our number one priority," he said.
By Shantal Parris Riley
sriley@tcnewspapers.com