Bushmen blank Vikings 28-0
Both teams entered the football season's second week after coming away with strong victories to open the season. Pine Bush, the defending Section 9, Class AA champions hosted Valley Central Friday after thrashing Cornwall the week before. And the Bushmen proved they were back in the hunt for a sectional title by beating the Vikings 28-0.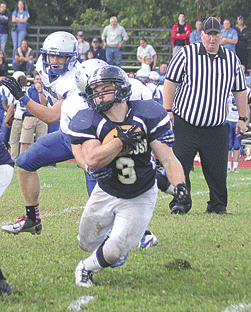 Valley Central took the opening kick off and did nothing with its first possession. A poor punt gave the ball to Pine Bush near the Viking 30-yard line, and the Bushmen scored when Mike Martin tumbled into the end zone five minutes into the first quarter for a 7-0 lead.
Martin added a 22-yard touchdown run in the second quarter for a 14-0 Bushmen lead at the half. In the third quarter, Martin ran it in from a yard out, and Jon Vazquez scored Pine Bush's final touchdown in the fourth quarter with a two-yard blast.
But for all of Pine Bush's control on offense, they still don't play as well as they could have. Dylan Eller took off on a long run in the second quarter and was poised to score before fumbling on the Viking one-yard line. And during another possession, the Vikings kept the Bushmen from scoring close to the end zone.
"We played ugly and got the win, but the defense played (well) and did a good job keeping us in the game," said Jim Wright, Pine Bush's coach. "We did what we had to do and that's all that matters."
When Pine Bush couldn't control the game with its running game, the defense stepped up and kept Kenny Gray, Valley Central's quarterback, from doing much with the Viking offense.
"We didn't make plays tonight. They sent a lot of pressure," said Ron Introini, Valley Central's coach.
Valley Central came into the game after coming back to beat Wallkill in their annual Battle of the Valley rival game during the season opener. After losing to Pine Bush, Introini said there's much to do before facing Middletown Friday night.
"We have some work to do to correct it for next week. We've got good kids, and we'll rebound (against Middletown)," said Introini.
Pine Bush heads to Warwick Friday and hopes to fine-tune its offense for the season's third week.
"We got the win, which is the most important thing, but the offense has a lot to do," said Martin.
"I'm excited about (the Warwick) game."
By Bond Brungard
sports@tcnewspapers.com