Dukes roll over Dover, 61-14
As the Dukes were in line after they beat Dover 61-14 in Dover Plains Saturday, Ryan Cary's memory had reached its limit at trying to determine if he had a better day at running the football against an opponent.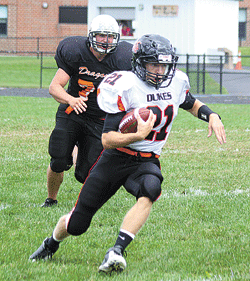 "As far as I can remember, that's my most rushing yards," said Cary, after rushing for 301 yards against the Dragons.
The Dukes rolled up 596 yards on the ground with Ryan's 15 carries during his record day. Marsallis Faircloth, his running mate and alternate at quarterback, carried the ball for 262 yards on 20 carries.
And The Dukes jumped out to an early 21-0 lead after the first quarter with some help from three Dover turnovers.
Nearly five minutes into the game, a fumble recovery to led to Cary's first touchdown when he sprinted 57 yards into the end zone. An interception led to Faircloth's 19-yard touchdown run four minutes later. Faircloth then closed out the quarter with another touchdown after the Dukes made another fumble recovery.
Dover cut the lead to 21-8 when Angus Edmundson pulled in an eight-yard touchdown reception. Faircloth extended the lead to 27-8 with a one-yard plunge late in the second quarter. The Dukes followed with a failed onside kick, and the Dragons turned that into a score with Dustin Bowen's 50-yard touchdown reception.
In the second half, the Dukes wasted little time getting the engines running. Cary scored on a 40-yard touchdown run 40 seconds into the start of the third quarter. And just 90 seconds later, Faircloth scored again with a three-yard touchdown run to make it 41-14.
Cary added two more touchdowns, 56 and 55 yards, running down Marlboro's west-side sideline as Marlboro led 55-14 at the end of the third quarter. Faircloth added a five yard touchdown run early in the fourth before the Dukes turned down their engines and finished the afternoon.
"The line was great, the defense was great, the receivers were great," said Cary, who also had 62 yards passing.
The Dukes, 2-0, now head home to face New Paltz, a league rival at 2-0, Friday. After Saturday's beat-down in Dover Plains, the Dukes have gotten off to a strong start and should bring a lot when they face the Huguenots in the front of the home crowd.
"I thought we moved the ball well with a good, balanced attack," said Rich Ward, Marlboro's coach. "I thought the line did well. It's a good second week."
By Bond Brungard
sports@tcnewspapers.com