Goldbacks produce their own thunder
The Newburgh Free Academy Goldbacks were foiled by Mother Nature on Thursday night, as a thunderstorm that began as the national anthem ended postponed the game to Friday afternoon, less than two hours after school dismissal.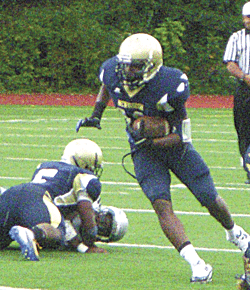 On Friday, the Goldbacks could be stopped by neither weather nor Warriors as they ran over Minisink Valley for 384 yards on the ground and seven rushing touchdowns on their way to a 49-7 victory at Academy Field.
Most of the damage was done by Newburgh's three-headed monster in the backfield as Aaron Forbes, Anthony Dubose and Natore Dennis did most of the damage.
Forbes got things going early as he set up Dubose's first touchdown of his three-score afternoon with a 35-yard first-quarter run that set up the two-yard score.
Dubose found the end zone the most, running for 139 yards on 13 carries to go along with his three touchdowns. Dennis had two touchdowns, both in the third quarter, helping the Goldbacks pull away. He finished with 85 yards on seven carries.
"I think the fact that in the backfield we have so many guys it keeps defenses guessing," Newburgh coach Bill Bianco said. "They can't really zero in on one guy. What I'm kind of happy about – more this week than last week – is their blocking for each other. There's four kids, including the quarterback, and only one's getting the ball."
Forbes got in on the scoring as well, with a 25-yard touchdown run that gave the Goldbacks a 21-0 lead with 3:40 left in the second quarter. He finished with 103 yards on eight carries.
"It's amazing because we're all weapons so no one knows who to expect to have a breakout game," Forbes said. "That's an amazing thing to have."
The Warriors (0-2) took advantage of the Goldbacks' only mistake late in the second quarter as they recovered Forbes' fumble on the Newburgh 36-yard line.
Minisink Valley quarterback Kyle Lawson connected with Kyle Gainor for a 36-yard touchdown pass with 1:20 left in the second quarter, cutting Newburgh's lead to 21-7 at halftime.
"That just gave us more juice and got us even more ready to play for the second half," Forbes said.
The Goldbacks (2-0) finished the game off quickly in the third quarter, as Dennis broke to the left, got through the defense, and cut back to the middle of the field for a 53-yard touchdown run, restoring Newburgh's three-touchdown lead.
Dennis and Dubose found the end zone for a second and third time respectively, and Nick Rivera added a 10-yard touchdown with 41 seconds left in the game.
"I was pretty happy, overall," Bianco said. "I think we came out pretty quick and we were able to sustain it throughout the game, so I thought our conditioning was good."
The Goldbacks will be tested again when they start a three-game stretch on the road, starting with Monroe-Woodbury on Friday night at Central Valley Elementary School. The Crusaders (2-0) blanked Warwick, 33-0, on Friday.
It will be the Section IX Class AA Division I opener for both teams.
"We're a tough team; they're a tough team," Forbes said. "It'll be a great game. We'll see what happens."
By MIKE ZUMMO