A celebration of Thanksgiving
November is a big month for Ebenezer Baptist Church, which celebrates its 105th anniversary this weekend just days before the start of preparations for Thanksgiving.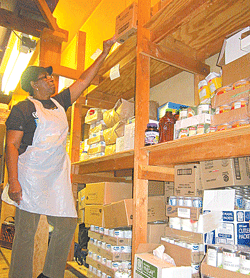 "It's our way of expressing gratitude," said church Pastor Bruce Davis Sr.
The Ebenezer Baptist Church soup kitchen will host a Thanksgiving dinner on Wednesday, Nov. 20. All members of the public are welcome to attend. "We will break bread together and give thanks," said Davis. "But, biblically speaking, we are supposed to give thanks every day."
Going back into history, the pastor said, early pilgrims celebrated the harvest with a feast they shared with the Native Americans. It was a show of neighborly goodwill and thanks to God, he said. "Today, in the United States, we have people of all colors and religions," he said. "No matter whether we are Methodist, Presbyterian, Episcopalian, no matter what race or religion, Thanksgiving is about people coming together to express thanks for what God has granted all of us."
The church, which operates under the motto "Bible-fed and spirit-led," has a long history. Located on First Street and Montgomery, it is the former site of a Revolutionary Army storehouse, which once doubled as a house of worship for early area Presbyterians.
A church was built there by the Union Presbyterian Church in 1857. The Ebenezer Baptist Church of Newburgh, incorporated in 1918, made the church its home in 1957. Before that time, the congregation made its home where it could, according to City of Newburgh Historian Mary McTamaney.
"An apartment tenement was rented from May 1919 to August 1921 at 215 Water Street at the corner of Barclay Street," she said, Barclay being one of Newburgh's "long lost" streets. "During the summer of 1921, the apartments were gutted and a sanctuary and meeting hall were built inside the brick building and a bell tower (was) added to make 215 Water St. into an impressive church. There, the congregation of Ebenezer Baptist thrived, sometimes facing financial hardship but growing steadily in numbers and spirit."
Pastor Davis joined the church in 2011.
The church soup kitchen serves hot meals once a week, on Wednesdays. The church food pantry is open Tuesday mornings. "We believe in benevolence," said Davis. "Every person that comes to us hungry, we make sure they are fed."
In the church kitchen last week, soup kitchen coordinator Mary Burns stood over a large wok, frying up a mess of turkey sausage. Nearby was a large, stainless steel bowl full of seasoned bread. "That's for the stuffing," she said.
After adding giblets, onions and celery, the stuffing will be frozen for use at an upcoming dinner, said Burns. Later, she offered a tour of the church food pantry, where shelves were stocked full of pasta, cereal, rice, peanut butter, grape jelly and apple juice. Cans were filled with yams, soups and cranberry sauce.
"Every second Tuesday, we offer meats," she said, including chicken and breakfast sausage. "We also have fresh vegetables – onions, cauliflower, mixed salad…"
The pantry is funded through the state Hunger Prevention and Nutrition Assistance Program, said Burns. Both the pantry and the soup kitchen are stocked with food from the Food Bank of the Hudson Valley, she said.
Congregation members and visitors from surrounding churches will meet for the church's annual pre-Thanksgiving meal on Sunday, Nov. 24. Food will be served at 3 p.m. in the Fellowship Hall. A Thanksgiving service will follow at 4 p.m.
The Ebenezer Baptist Church Soup Kitchen Thanksgiving Dinner will be held on Wednesday, Nov. 20. Dinner begins with a short service in Fellowship Hall at 5:45 p.m. Dinner will be served at 6 p.m.
Ebenezer Baptist Church and soup kitchen are located at 76 First Street in the City of Newburgh. For more information, visit ebenezerbaptistnewburghny.com or call (845) 562-1168.
By SHANTAL PARRIS RILEY
sriley@tcnewspapers.com