Cuomo seeks Pine Bush probe
In the wake of a New York Times article detailing allegations of widespread anti-Semitic harassment and intimidation in the Pine Bush School District, Gov. Andrew Cuomo has called for an investigation by the State Police and the New York State Division of Human Rights.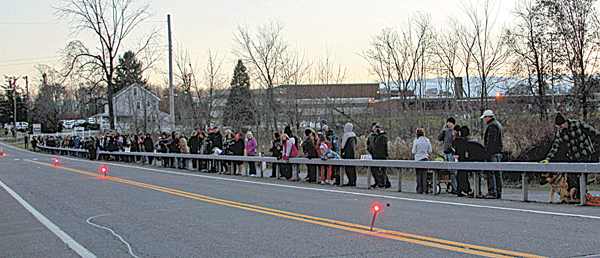 The New York Times article, published last Friday, reported that "The proliferation and cumulative effect of the slurs, drawings and bullying led three Jewish families last year to sue the district and its administrators in federal court; they seek damages and an end to what they call pervasive anti-Semitism and indifference by school officials."
The New York Times reported that it had reviewed about 3,500 pages of deposition testimony by parents, children and school administrators detailing what was described as a hostile environment, noting that, "The swastikas, the students recalled, seemed to be everywhere: on walls, desks, lockers, textbooks, computer screens, a playground slide — even on a student's face."
Cuomo's reaction on Friday was hailed by the Jewish Community Relations Council.
"How can there be a hotbed of anti-Semitism and hate in New York, in the 21st century and only a 90-minute drive from Times Square?" asked Michael S. Miller, executive vice president and CEO of JCRC-NY. "We agree with the governor that there should be, 'zero tolerance for bigotry or hate based on anyone's religious or ethnic origin.' If there are criminal and human rights violations, the offenders should be prosecuted to the full extent of the law."
Superintendent of Schools Joan M. Carbone said she could not comment directly on the lawsuit, filed in 2012, but still pending. She did, however, issue a prepared statement.
"We are hopeful that at the conclusion of this litigation, Pine Bush Central School District's actions will be vindicated. We certainly believe Pine Bush is a tolerant community," Carbone said.
"The district takes all reports of discrimination or bullying seriously. Our Code of Conduct, Dignity for All Students Policy, Anti-discrimination and Anti-harassment policies are up to date and enforced. The district, as well as each individual school, (is) proactive in providing programs and training about diversity and tolerance for all. These trainings include presentations from Dr. Michael Fowlin, Barbara Coloruso, Linda Michelle-Baron, the Morris Brothers, Holocaust survivors, John Gunderson, to name a few.
"Also, several activities are conducted throughout the school year that promote acceptance for all, such as diversity weeks, diversity fairs and international celebrations.
"District's administrators and staff respond promptly when instances of bullying or discrimination are reported and take appropriate remedial action. If a parent or student feels that they have either been bullied or the victim of discrimination they should bring that complaint to the District's attention. This complaint will be promptly addressed."
The New York Times article also quoted former Pine Bush Superintendent Phillip G. Steinberg, as describing the lawsuit as "a money grab." Steinberg, named as a defendant in the suit, is Jewish.
Reaction among members of the Pine Bush community was also swift. Many believed the newspaper article, and the subsequent attention from local and regional television stations, painted an inaccurate picture of Pine Bush.
Congressman Sean Patrick Maloney was asked about the matter, Saturday, at a town meeting in Walden. A woman in the audience said felt the "timing was too close" to the community's outcry over a proposed Satmar Hasidic village and private girls' school in nearby Bloomingburg. She asserted that the allegations of racism were made in "retaliation against our town because we asked for an investigation into what happened there."
"This is why we do an investigation," said Maloney. "We should get the facts and they should direct what happens next. It's not the Orange County I know and not the Pine Bush I know. Unfortunately, everyone gets painted with the same brush."
Maloney added that he hopes the community's response will speak louder than the allegations, but the "facts sound pretty awful for the kids there."
In Pine Bush, Stosh Zamonsky and Annette Kahrs quickly organized a candlelight rally. Some 300 people lined Route 302 from the sidewalk entrance to the high school almost to the nursery school entrance, Sunday evening, as dusk fell.
"I very much would like to see a line of people, arm in arm, forming a human bond," Kahrs said. "We have a simple message, we have been broad stroked with an inaccurate portrayal and that is not who we are."
The only signs held by those assembled featured the image of a heart and the words, "We are Pine Bush. We are diversity."
Kahrs said the vigil was not connected to any of the activists opposed to proposed development in nearby Bloomingburg.
As the crowd stood in the wind, the sun setting, some with candles or battery operated lights, John Kahrs utilized a megaphone to thank everyone for attending.
"Everyone here," he said, "is just a different shade of red, white and blue."
Sharon MacGregor, Rachel Coleman and Carl Aiello contributed to this article.