Man charged with killing neighbor's dog with bow & arrow
A deer hunter from New Jersey has been charged with a felony after police say he intentionally shot and killed a Shawangunk family's dog with a bow and arrow last week.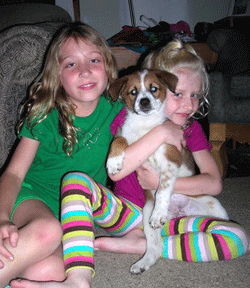 "We're just devastated," said Chris Palinkas, the dog's owner.
Palinkas said the incident came out of the blue on Sunday, Oct. 27 while he was in a wooded area on his property cutting some firewood with his brother. The area is located on the other side of a field from his house, which sits on 57 acres. Palinkas forgot his gloves and called the house to have his 8-year-old daughter bring them to him.
The young girl brought the family dog, a 2-year-old Australian Shepherd mix named Claira, along with her. After delivering the gloves, the two headed back across the field to the house.
"As soon as I started the chainsaw, I heard an awful shrieking," said Palinkas.
Palinkas said he stopped and turned to see their dog, Claira, with an arrow through her body, flopping on the ground just a couple hundred feet away and making a terrible noise he had never heard before.
Remembering his neighbor's hunting blind perched nearby on the property line, Palinkas ran straight to the blind where he found a stranger, later identified as his neighbor's brother, David W. Moors, of Beachwood, NJ, sitting quietly in the tent with a bow.
"I didn't even know he existed and he killed my dog," said Palinkas.
Palinkas said Moors did not deny shooting the dog, or realizing it was a dog, but told him he shot the dog because "it shouldn't be running loose."
"She was the most friendly dog you'd ever want to know," said Palinkas. "I think that's what got her killed."
Palinkas said the hunter had put out sweet feed (corn with molasses) near the blind and Moors told him the dog had come right up to the blind to investigate, then turned to leave. Palinkas said it was at that time the hunter shot her at close range, the arrow entering from behind her ribs and protruding from her throat.
While Palinkas called 911, his wife sent their daughter into the house and went in search of Claira, who had dragged herself to a nearby stream. She removed the arrow and carried the dog back to the house. She tried to drive Claira to the nearest vet open on a Sunday—an office in New Windsor—but the dog died along the way.
Town of Shawangunk Police and a DEC officer responded to the scene and arrested Moors, charging him with aggravated cruelty to animals and hunting over bait.
Palinkas said he hasn't had a problem with the neighbors before, whom he has previously allowed to hunt deer along the border of his land, since his neighbors' parcel is narrow and much smaller.
"I was just trying to be a good neighbor and let them do their thing, even though we're not hunters," said Palinkas.
Palinkas said they had owned Claira for just two short years, after he gave in to repeated requests and brought home a puppy for his two young daughters, ages 5 and 7 at the time.
"She has been the ultimate family dog, so smart and easy to train. She was supposed to be with them until they went off to college and she died of old age," said Palinkas.
Instead, he said his two daughters were traumatized by the incident, and can't understand why someone would intentionally shoot their dog. Palinkas said his 8-year-old daughter also saw her injured dog and heard the "awful screeching."
"To hear my daughters crying was so heartbreaking," said Palinkas, adding that he hopes the court prosecutes the New Jersey hunter.
Moors was arraigned and released on Oct. 27 and is set to appear in Town Court on Nov. 19.
By RACHEL COLEMAN
rcoleman@tcnewspapers.com